HOME => HANDICRAFTS => CANE AND BAMBOO => CANE AND BAMBOO DECORATIVE ITEMS
CANE AND BAMBOO DECORATIVE ITEMS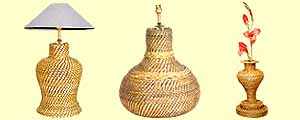 Bamboo wood is used in making countless decorative items such as hand fans, close weave carrying baskets, flower vases, wooden toys, trays, bamboo boxes and ethnic containers. The significant aspect of bamboo and cane craft is the wide variety of ways in which the available raw material has been understood by Indian people and the manner in which this understanding has been interpreted and translated into products.
Material Used by States
: Cane from North East India & Andaman & Nicobar.
Design Style
: Plain, Tinted, Embellished with Metal, Iron, Brass.
Corporate Saga || Site Map || Feedback
---

Copyright © , The Handicrafts and Handlooms Exports Corporation of India Ltd., All Rights Reserved
Site Developed by IndiaMART InterMESH Limited