HOME => HANDICRAFTS => CANE AND BAMBOO => CANE AND BAMBOO UTILITIES
CANE AND BAMBOO UTILITIES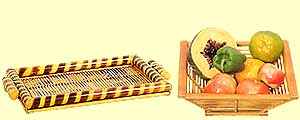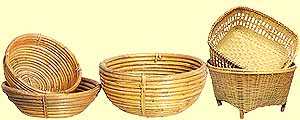 A host of small products are made from Bamboo. These include toys, hand fans, spoons, smoking pipes, musical instruments, combs and brooms. In additional, several accessories and tools are used in weaving, weapons such as bows and arrows and weapon accessories seuch as acapebard for the dao and tool handles are made from bamboo. The range of products seems endless dependent only on the creative imagination and need of the carfsmen who is able to generate such diversity in the abundantly availble raw material.
Material Used by States
: Cane from North East India & Andaman & Nicobar.
Design Style
: Plain, Tinted, Embellished with Metal, Iron, Brass.
Corporate Saga || Site Map || Feedback
---

Copyright © , The Handicrafts and Handlooms Exports Corporation of India Ltd., All Rights Reserved
Site Developed by IndiaMART InterMESH Limited