HOME => HANDICRAFTS => CLAY / TERACOTTA / CERAMICS => CLAY / TERACOTTA / CERAMICS UTILITIES
CLAY / TERACOTTA / CERAMICS UTILITIES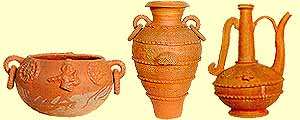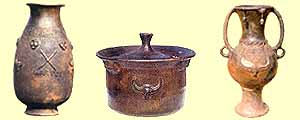 Our ethnic collection is a collector's item and a treat to the eyes. They represent the fusion of the modern with the traditional, replete with pristine brilliance and artistry. Wall hangings, designer pots, statues, and other utilities.
Material Used
- Pottery, Terracotta, Ceranics, Stone ware.
Design Style
- Painted, Lacquered.
Corporate Saga || Site Map || Feedback
---

Copyright © , The Handicrafts and Handlooms Exports Corporation of India Ltd., All Rights Reserved
Site Developed by IndiaMART InterMESH Limited